Historical novels by Matt Rees
To write his historical novels, Matt took real mysteries about major historical figures and created fiction about what might really have happened…To the great musician Mozart. To the Italian old master Caravaggio. To the State of Israel. Read them and wonder, 'What if…?'
MOZART'S LAST ARIA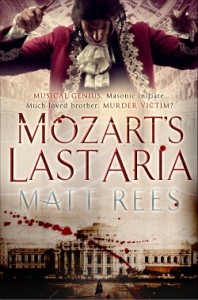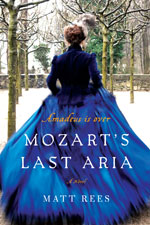 Get the UK edition. Get the US edition. Download the audiobook.
It's 1791 and Wolfgang Amadeus Mozart is enlightenment Vienna's brightest star. But six weeks ago, the great composer told his wife he had been poisoned. Now he's dead.
Wolfgang's sister Nannerl returns from the provinces to investigate his death. She finds traces of something sinister: a Masonic conspiracy that reaches from the gilded ballrooms of Viennese society to the faceless offices of the Imperial secret service.
Only when watching Wolfgang's bewitching opera The Magic Flute does Nannerl truly understand her beloved brother. For, encoded in his final arias, she detects a subtly crafted blueprint that Mozart hoped would create a radical new future. Did it seal his fate instead?
Reviews
This is an even better mystery novel than the author's prize-winning series about the Palestinian detective Omar Yussef–and that's saying a lot. —Literary Review, London
Rees nails the details of Mozart's Vienna with precision, seasoning his story with musical details that will delight fans of classical music. The author renders Nannerl very sympathetic and teases in a touch of romance that is both bittersweet and unexpected. A beautiful book. – Kirkus Reviews (starred review)
Award-winning British novelist Matt Rees cleverly weaves music, crime, and conspiracy into a sumptuous historical whodunit. – Marie Claire
Mozart fans and code crackers will enjoy the clever musical riddle. – The Times, London
The Da Vinci Code, but this time with Masons and musical manuscripts. – NPR

A NAME IN BLOOD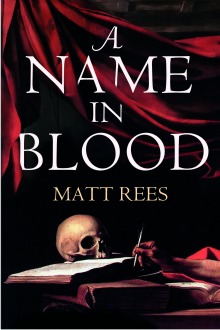 THE MYSTERY OF ITALY'S MOST CONTROVERSIAL PAINTER: CARAVAGGIO.
Italy, 1605: For the ruling Borghese family, Rome is a place of grand palazzos and frescoed cathedrals. For the lowly artist Caravaggio, it is a place of rough bars, knife fights, and grubby whores. Until he is commissioned to paint the Pope…
Soon, Caravaggio enters the Borgheses' inner circle, and becomes the most celebrated artist in Rome. But when he falls for Lena, a low-born fruit-seller, and paints her into his Madonna series as a simple peasant woman, Italian society is outraged.
Discredited as an artist, but unwilling to retract his vision of the woman he loves, Caravaggio is forced into a duel – and murders a well-connected street tough. Even his powerful patrons cannot protect him from a death sentence.
So Caravaggio flees to Malta, where, before he can be pardoned, he must undergo the rigorous training of the Knights of Malta. His paintings continue to speak of his love for Lena. But before he can return to her, as a Knight and a nobleman, Caravaggio, the most famous artist in Italy, simply disappears…
Get the UK edition or buy the audiobook.
Reviews
Rees illuminates with sensitivity the hitherto dark portrait of one of the world's most influential artists. –Daily Mail
A superb tale of intrigue and wrong doing in Renaissance Italy–It's a Crime!
Inhabits Caravaggio's mind…bringing to life his conflicted world–The Bookbag
A revolutionary hypothesis that casts an atmosphere of mystery and romance on Caravaggio's disappearance. — Malgrado poi (Italy)

THE AMBASSADOR
What if Israel had existed in 1938? The story of Israel's first ambassador…to Adolf Hitler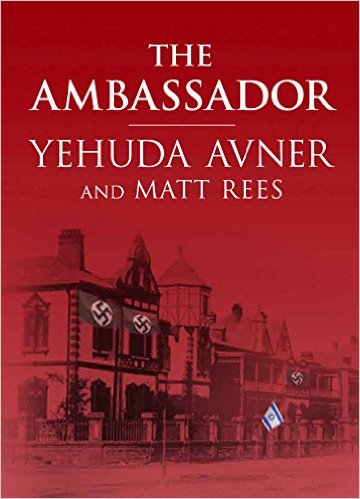 "You will sup with the Devil, Dan. You will do everything the Devil requires. Whatever it takes, you will maintain the transfer of Jews from Germany to Israel. Remember not to fear him. After all, he thinks it is you who is the Devil."
1937. The British Cabinet accepts the recommendations of the Peel Commission, establishing a Jewish state: Israel.
Dan Lavi is a young diplomat sent to serve as the country's first ambassador to Berlin, to save as many Jews as possible under a controversial agreement with Hitler's regime. Amid the terror and atrocities of the Third Reich, Dan struggles to maintain relations with those who want him dead, to negotiate Nazi Party politics and Allied pressures, and to stop the Final Solution — even if it costs him everything.
An alternative historical novel co-written with Yehuda Avner, author of The Prime Ministers.
Get the US edition. Get the UK edition.
Matt writes:
I teamed up with Yehuda Avner, a former top adviser to Israeli Prime Ministers Yitzhak Rabin and Menachem Begin and author of the best-selling memoir 'The Prime Ministers,' to write 'The Ambassador,' a thriller set in Nazi Germany.
What if Israel had existed in 1938 and there had been a refuge for Jews during the Holocaust? That's the question 'The Ambassador' posits. The novel's main character is Dan Lavi, Israel's ambassador to Berlin — to Hitler.
'The Ambassador' is published by Toby Press.