About international thriller, mystery and historical novelist Matt Rees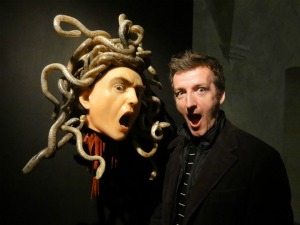 Matt Rees is an award-winning crime writer, foreign correspondent and international thriller novelist. When he builds a character for one of his novels, he sketches out some facts, predilections and impressions before he writes. If he sketched himself, it'd look like this:
About Matt
Born in Newport, South Wales. Grew up in Cardiff and South London.
Major authors compare his writing to the work of Graham Greene, John Le Carre, Georges Simenon, Henning Mankell and Dan Brown. French magazine L'Express called him "the Dashiell Hammett of Palestine."
Favorite restaurant: Frueh, Cologne, Germany. He likes the haemchen.
Award-winning Middle East correspondent for The Scotsman and Newsweek, and during the Palestinian intifada was Time's Jerusalem bureau chief. Yasser Arafat once tried to have him arrested.
Soft-spoken, avoids confrontation, does yoga.
Master of the thriller genre
Le Monde calls him "The master of the genre." BBC Front Row says he's "wonderful, wonderful." In The New York Times his books are "astonishing" (in a good way!) and The Washington Post calls his books "readable and literate."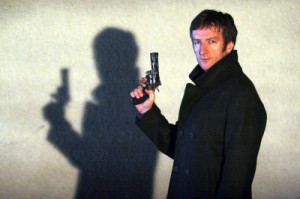 Came up with the idea for Omar Yussef, his Palestinian sleuth, in his favorite hotel in Rome. He based his characters on colorful Palestinians he knows. Including a Mister Palestine (he dead-lifts 900 pounds), a one-time Arafat bodyguard (skilled in torture), and a delightful fellow who worked as a hitman.

Dirty secrets about international thriller novelist Matt Rees
Dated a prima ballerina, an Oxford professor of German poetry, a champion gymnast, and a Supreme Court clerk. Married a blonde.
Learned to play piano to research MOZART'S LAST ARIA, which is about the great composer's death. Reviewers compared it to The Da Vinci Code…with better writing.
Drinks: Rosso di Montalcino from the Quercecchio estate.
For A NAME IN BLOOD, about the mysterious death of Caravaggio, he learned to paint with oils and fight with a rapier.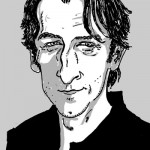 His novels about Bethlehem detective Omar Yussef won the prestigious Crime Writers Association John Creasey Dagger. Colin Dexter, author of the Inspector Morse novels, called Omar "a splendid creation."
Favorite line from favorite song: "Good God, y'all."
Published in 25 countries and also in Antarctica.
Last journalist to talk to Salman Rushdie before the fatwa. Was drunk at the time.

Related articles across the web