City Editions publishes my novel about Mozart's sister in French


The cutting edge French publisher City Editions publishes La Conjuration Mozart, the translation of Mozart's Last Aria, my novel about the death of the great composer and his sister Nannerl's investigation of how he died. Lire les premières pages.
1791 : Mozart est l'artiste le plus célèbre de Vienne. Maître et virtuose, c'est aussi un franc-maçon qui évolue dans des hautes sphères mêlant politique, art, science, philosophie et intrigues de pouvoir. Soudain, Mozart annonce à sa femme qu'il est certain d'avoir été empoisonné. Il meurt six semaines plus tard.

La ville bruisse alors de rumeurs : le compositeur aurait été infidèle et sur le point d'être ruiné. Mais sa sœur, Nannerl, n'en croit rien. Elle découvre que son frère a laissé une mystérieuse note manuscrite, une énigme cryptée. Mozart semblait redouter de puissants ennemis complotant dans l'ombre des salles de bals et les bureaux feutrés d'hommes politiques prussiens…

Un génie. Un complot. Un mystère.
Le Caravage, génie et assassin
City Editions also publishes the French version of A Name in Blood, my novel about the mysterious end of Caravaggio, the great Italian artist, under the title Un Nom de Sang. Lire les premières pages.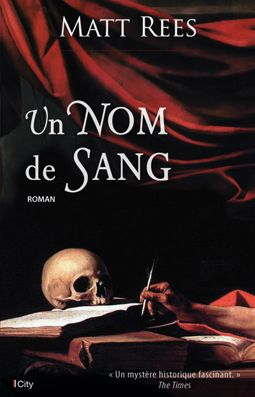 Italie, 1605. Pour Michelangelo Merisi da Caravaggio qui n'est encore qu'un jeune artiste, Rome est la ville des ruelles sombres, des combats au couteau et des prostituées. Un monde qui est son quotidien, jusqu'à ce qu'il soit chargé de peindre le portrait du Pape… Caravage gagne alors ses entrées dans le cercle intime de la famille Borghese et devient l'artiste le plus célèbre de Rome. Mais sa personnalité bouillonnante et sa représentation de la Vierge Marie comme une simple paysanne scandalise la haute société. Discrédité, Caravage se bat en duel et tue un gentilhomme. Michelangelo est contraint de s'enfuir à Malte. Mais il est dangereux de naviguer dans les eaux troubles du pouvoir, de l'Inquisition et des manipulations. Et un jour, le Caravage disparaît…

Un roman à énigmes au cœur de la Rome baroque.
Related articles across the web