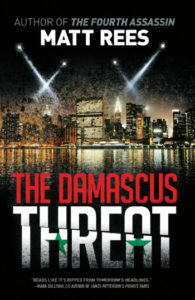 From a kids playground in Jerusalem to civil war in Damascus, the story of how I came to write my Syria thriller THE DAMASCUS THREAT.
My new thriller hero is a US agent cool enough to set to rights a world gone mad with hate and terrorism. My Syria thriller THE DAMASCUS THREAT is the first in a series about the ICE agency, which is the second-biggest US law enforcement body and has a $20 billion budget–even if almost no one has heard of it.
Here's where I had the ideas for my first couple of novels: in a square outside the church that marks the site of Jesus's birth, while I watched Palestinian gunmen execute a supposed Israeli collaborator; in a Gaza refugee camp, meeting late at night with a wanted man; on a hilltop above the West Bank's most violent town, as the gunfire echoed through the valley.
The idea behind my latest book, a Syria thriller? I got that in a children's playground, chatting with the mother of my five-year-old's little pal, while the kids chased around the jungle gym.
"What are you doing in Jerusalem?" I asked her.
"My husband works at the US consulate. He's an ICE agent."
As soon as I heard that acronym, I knew I had to be the writer who turned it into a thriller series. I was filled with a kind of awe for whoever came up with it. Can you imagine the excitement of the suits in DC when, after the new agency was mandated under the Patriot Act, they figured out that the somewhat dull-sounding issues of immigration and customs gifted them the super-exciting acronym ICE? In your face, Federal Air Marshal Service.
Immigration and Customs Enforcement is the second-biggest law enforcement agency in the US government, after the FBI. But relatively few people have heard of it. When it's mentioned in the press, it's usually as "immigration agents" or "customs agents." ICE hasn't gotten big thriller treatment, because it's somewhat new and generally has an international element that makes its work less clear-cut than, say, the Bureau of Alcohol, Tobacco and Firearms. That changes now with publication of my novel THE DAMASCUS THREAT. After all, you only have to look at what ICE does to see the scope for crime fiction–a big old series of it, too. Any crime that involves the crossing of a US border is automatically at least partial ICE jurisdiction. That includes cybercrime.
My book's set in Syria and New York City. ICE Special Agent Dominic Verrazzano is due to meet a UN chemical weapons official who has secrets to reveal about something dangerous going on in Damascus. She's killed just as she gets to him. Verrazzano has to figure out the chemical weapons plot—and then stop it. He's up against the kind of people I spent years covering as a journalist—terrorists, arms dealers, mercenaries. He has, of course, a secret—he was unwittingly involved in arm trafficking as a Special Forces op. ICE doesn't know that. Nor do the two women and the man on his team. The only person who knows Verrazzano's secret is his former Special Forces commander, and Verrazzano soon learns that he's the one behind the chemical weapons plot.
THE DAMASCUS THREAT is the first of a series of ICE novels. With each one, I'm intending to lay out the expanding dimensions of the plot that Verrazzano must fight against. After this Syria thriller, the series will take him throughout Europe, Africa and the Middle East. And to Detroit too (one guy can't have all the glamour…) It's an expansion of some of the international themes I took on with my Palestinian novels—the kinds of things that make front pages for violence, without ever being explained or understood on those same pages.
Right now, there are days I look at the front pages and find the world seems to have gone mad with violence and hate and stupidity. Verrazzano represents the kind of strength it takes to set that world to rights. I hope that, for you, reading THE DAMASCUS THREAT will help make sense of this world.
(I first wrote this as a guest post for Janet Rudolph's excellent Mystery Fanfare blog.)
Get THE DAMASCUS THREAT on amazon.com. Get the Kindle edition.
Get the book on
Barnes & Noble
Indiebound
BooksaMillion