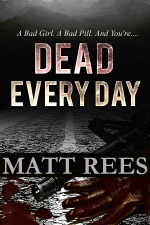 The eleventh installment of a FREE thriller in serial form. Matt reads his psychological thriller DEAD EVERY DAY. Ellis Callan is a history professor stricken by post-traumatic stress disorder from his time as a Marine in Iraq. He's caught up in a mystery surrounding the murders of three women around him. In this installment Callan takes refuge with his dead sister's boss, a psychiatrist. The shrink suggests Callan might be schizophrenic. Then someone comes to get him…A bad girl, a bad pill, and you're Dead Every Day. Get Matt's FREE ebook too.
Get the Podcast: Download the MP3
Subscribe on iTunes Listen on Stitcher.

Get a FREE ebook of my crime stories.