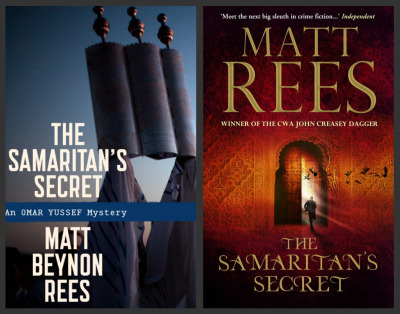 The third Omar Yussef Mystery, from the winner of the CWA John Creasey Dagger. Best Mystery Book of the Year: Deadly Pleasures magazine
Get the book in the UK and in the US. Download it from audible.com.
A member of the tiny but ancient Samaritan community who controlled hundreds of millions of dollars of government money has been murdered. Omar Yussef must find the missing money before all international aid to the Palestinians is cut off.
When Omar Yussef travels to Nablus, the West Bank's most violent town, to attend a wedding he little expects the trouble that awaits him. An ancient Torah scroll belonging to the Samaritan's descendants of the biblical Joseph, has been stolen. The dead body of a young Samaritan discovered and the theft takes an unexpected turn. Omar is driven into the murky alleys and tunnels of the old casbah, where he uncovers a violent rift between the government and Hamas militants, the secret deals of a rich businessman, and the shadowy world of the tiny Samaritan community.
"Provocative and humane…Rees adopts a humanist perspective, keeping the military maneuvers in the background and focusing on ordinary people struggling to live ordinary lives."
— The New York Times Book Review
Omar Yussef is the most unlikely detective in modern whodunnits. He does not study fingerprints, collect physical evidence or check alibis…He believes that one must intervene in the present to shape history." — Nthabisang Moreosele in The Sowetan
A wonderful detective thriller … in which Arafat's late life and death lurk as vivid presence and macabre ghost. — Marty Peretz, The New Republic
"Thick with atmosphere, memorable, unusual and the clearest possible proof that mystery fiction can be moulded into any literary form and is often highly instructive." —–Anthony Lejeune, The Tablet
The depth and heart in Omar Yussef's third case makes it a tearjerker as well as a page-turner. — Kirkus Reviews
[soliloquy id="3546″]

Constantly at risk from all manner of idealists with guns, Yussef soldiers on, his concern for individual human lives standing in stark contrast to the world around him. — Bill Ott, Booklist (Starred review)
Rees excels in capturing the essence of Palestine, from the claustrophobic casbah with its myriad scents to the harsh beauty of the countryside. Rees vividly illustrates daily Palestinian life, where violence is a constant threat and religious attitudes permeate each decision. — Publishers Weekly
Matt wrote and performed this song about The Samaritan's Secret:
Sick and Sweet: The Samaritan's Secret by Matt Rees
My third novel THE SAMARITAN'S SECRET is set in Nablus and hinges around the corruption of some Palestinian leaders encountered by Omar Yussef — and qanafi, a particularly cloying dessert that's a specialty of the city. Hence this song's title.
[soundcloud url="http://api.soundcloud.com/tracks/40588015″ params="auto_play=false&show_artwork=true&color=ff7f00″ width="100%" height="166″ iframe="true" /]