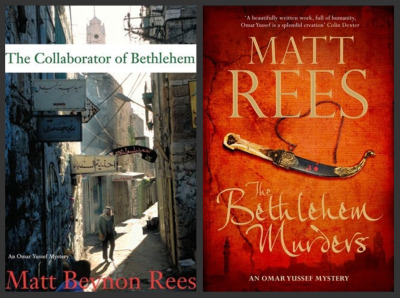 The first Omar Yussef Mystery. Winner CWA John Creasey Dagger. Nominee: Quill Best Mystery, Barry First Novel, Macavity First Novel, Prix des Lecteurs.
Get the US edition, or the UK edition. Download the book from audible.com. Get the UK audiobook on CD.
For decades, Omar Yussef has taught history to the children of Bethlehem. When a favorite former pupil, George Saba, is arrested for collaborating with the Israelis in the killing of a Palestinian guerrilla, Omar is convinced that he has been framed. With George facing imminent execution Omar sets out to prove his innocence. His classroom is bombed and members of his family are threatened. But with no one else willing to stand up for the truth, it's up to Omar to act, even as bloodshed and heartbreak surround him.

All it takes is one good man — a detective, of course — to humanize events that confound understanding. In THE COLLABORATOR OF BETHLEHEM, an astonishing first novel by Matt Beynon Rees, the former Jerusalem bureau chief for Time magazine, that honorable man is Omar Yussef, a middle-aged history teacher at a United Nations-run school for Palestinian children outside Bethlehem. Setting a mystery in the epicenter of a war zone challenges the genre conventions, but it doesn't change the rules. In fact, it clarifies the role of the detective as the voice of reason, crying to be heard above the cacophony of gun-barrel politics. Watching friends die and neighbors turn on one another, Omar Yussef decides that "it's time for me to scream." In a world where civilization has broken down into "ignorant, simple-minded, violent politics," this decent man commits the ultimate act of heroism — keeping an open mind. — New York Times Book Review
Get the US edition, or the UK edition. Download the book from audible.com.
Matt talks about and reads from The Collaborator of Bethlehem.
Rees tells this grim story with skill, specificity and richly detailed descriptions of people and places. Here, for example, is the terrified judge who presides over Saba's sham trial: "He was a portly man with skin the color and softness of coffee cake and gray hair that puffed high and back like a French crooner. His mouth was set and angry, but his eyes shifted with fear." The Collaborator of Bethlehem is readable and literate, and offers a vivid portrait of Palestinian life today — Washington Post

Matt Rees has given us an incredible tapestry. It's a wonderful, wonderful book. A fantastically original book" — BBC Radio 4 Front Row
The murder mystery is intricate and clever, but what makes this book so outstanding is its evocation of daily life in hideous circumstances, and the survival of human decency in an utterly indecent situation…It is an unusual adjective for a crime novel, but I'd call this one inspiring. — Literary Review
A beautifully written story. I have walked the streets of Bethlehem with Omar Yussef, smelled the dust and the fear, tasted his food, shared his anger and his hope. His decency is a light in the gloom. I shall not forget him. — Anne Perry, author of Dark Assassin.
The Collaborator of Bethlehem is the best — and the rarest — sort of mystery: exciting and compelling, but it is also a deeply moving story that will, for many readers, shed much needed light on conditions in the Palestinian territories. Matt Beynon Rees's ability to blend the political and emotional is reminiscent of Graham Greene. — David Liss, author of The Ethical Assassin.
Collaborator: The Collaborator of Bethlehem by Matt Rees
My first novel The Collaborator of Bethlehem takes place in the city of Jesus's birth against the violent backdrop of the intifada. I wrote this song in the style of another kind of ghetto. With backing vocals from fellow crime novelist Jasmine Schwartz.
[soundcloud url="http://api.soundcloud.com/tracks/40360409″ params="auto_play=false&show_artwork=true&color=ff7700″ width="100%" height="166″ iframe="true" /]

At one of the Bethlehem locations from my first novel The Collaborator of Bethlehem (UK title The Bethlehem Murders) with a group of Norwegian visitors who posted some brief videos. This one is in Beit Jala, looking across the deep wadi at Jerusalem and talking about the gunbattles that used to take place there.


Dehaisha Refugee Camp, outside the UN school Omar Yussef teaches.


Dehaisha Refugee Camp, talking about Marwan Barghouti, a Palestinian leader.