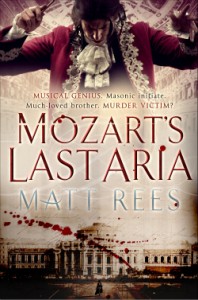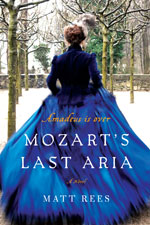 Get the UK edition. Get the US edition. Download the audiobook.
It's 1791 and Wolfgang Amadeus Mozart is enlightenment Vienna's brightest star. But six weeks ago, the great composer told his wife he had been poisoned. Now he's dead. Wolfgang's sister Nannerl returns from the provinces to investigate his death. She finds traces of something sinister: a Masonic conspiracy that reaches from the gilded ballrooms of Viennese society to the faceless offices of the Imperial secret service. Only when watching Wolfgang's bewitching opera The Magic Flute does Nannerl truly understand her beloved brother. For, encoded in his final arias, she detects a subtly crafted blueprint that Mozart hoped would create a radical new future. Did it seal his fate instead?
Watch the book trailer now!
Matt talks about his book and reads from the first chapter:
MOZART'S LAST ARIA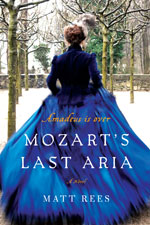 "Matt Rees has drawn a lively portrait of eighteenth-century Vienna and of characters whose names now live only because of their connection with the composer. This novel is well-researched, very clever and written in clean, suitably formal language…This is an even better mystery novel than the author's prize-winning series about the Palestinian detective Omar Yussef–and that's saying a lot." —Literary Review, London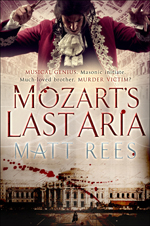 "Rees nails the details of Mozart's Vienna with precision, seasoning his story with musical details that will delight fans of classical music. The author renders Nannerl very sympathetic and teases in a touch of romance that is both bittersweet and unexpected. A beautiful book illuminated by the author's own musical background that moves slowly and deliberately to a fine conclusion." — Kirkus Reviews (starred review)
"A resounding bravo. Beautifully written and diligently researched. Rees makes the musical realm of Mozart sparkle with intrigue."–Mystery Scene
"Award-winning British novelist Matt Rees cleverly weaves music, crime, and conspiracy into a sumptuous historical whodunit, set against the decadent backdrop of 18th-century Vienna." — Marie Claire
"Mozart fans and code crackers will enjoy the clever musical riddle. A very readable historical mystery romp." — The Times, London
"Mozart, music, and murder seamlessly blend together in this fascinating historical mystery." — Tess Gerritsen
"In this engaging, well-paced book Mozart's estranged sister travels to Vienna to investigate the mysterious circumstances of her brother's sudden death. Combining Dan Brown or Elizabeth Kostova–style historical conspiracy theory with cozy detective novel, Rees's latest offers a genuinely felt reverence for the power of Mozart's music and its lasting impact in the world." — Publishers Weekly
"Rees delivers a fresh spin on the composer's demise." — The Australian
"A elegantly written and thoroughly researched crime story of 18th Century Vienna…If you love an intricate history-mystery, you'll love this novel very much." — Historical Novel Review
"The Da Vinci Code, but this time with Masons and musical manuscripts." — NPR
"A stunning combination of mystery and meticulously researched historical fiction." — Tasha Alexander
Replete with biographical detail and musical references, this novel animates Mozart's life and times with a varied cast of patrons, lovers, and villains. This absorbing Viennese soap opera is a solid choice for readers who like fiction about historical figures caught up in suspenseful intrigues such as Matthew Pearl's The Dante Club or Gyles Brandreth's Oscar Wilde mysteries. — Library Journal
---
Matt's song, which he wrote and performed, about Mozart's Last Aria:
I Wish to Explain to You: Mozart's Last Aria by Matt Rees
The main character in my historical mystery about the death of Mozart is the composer's sister Nannerl. In Mozart's Last Aria, she sings her brother's aria "Vorrei Spiegarvi" (I Wish to Explain to You). I took that aria as inspiration for this song.
[soundcloud url="http://api.soundcloud.com/tracks/40359232″ params="auto_play=false&show_artwork=true&color=ff7700″ width="100%" height="166″ iframe="true" /]