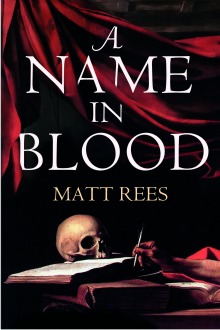 THE MYSTERY OF ITALY'S MOST CONTROVERSIAL PAINTER: CARAVAGGIO.
Rees illuminates with sensitivity the hitherto dark portrait of one of the world's most influential artists. –Daily Mail
A superb tale of intrigue and wrong doing in Renaissance Italy—It's a Crime!
Inhabits Caravaggio's mind…bringing to life his conflicted world—The Bookbag
A revolutionary hypothesis that casts an atmosphere of mystery and romance on Caravaggio's disappearance. — Malgrado poi (Italy)
Italy, 1605: For the ruling Borghese family, Rome is a place of grand palazzos and frescoed cathedrals. For the lowly artist Caravaggio, it is a place of rough bars, knife fights, and grubby whores. Until he is commissioned to paint the Pope…Soon, Caravaggio has gained entry into the Borghese family's inner circle, and becomes the most celebrated artist in Rome. But when he falls for Lena, a low-born fruit-seller, and paints her into his Madonna series as a simple peasant woman, Italian society is outraged. Discredited as an artist, but unwilling to retract his vision of the woman he loves, Caravaggio is forced into a duel – and murders a well-connected street tough. Even his powerful patrons cannot protect him from a death sentence. So Caravaggio flees to Malta, where, before he can be pardoned, he must undergo the rigorous training of the Knights of Malta. His paintings continue to speak of his love for Lena. But before he can return to her, as a Knight and a nobleman, Caravaggio, the most famous artist in Italy, simply disappears…
Get the UK edition or buy the audiobook. 
Read a sample chapter from A Name in Blood. Listen to Matt read from the book.
Matt wrote and performed two songs about his novel. Have a listen:
Painted in Blood: A Name in Blood by Matt Rees
My Caravaggio novel, "A Name in Blood," is released in the UK in summer 2012. He was a rebellious, sensitive man who changed art. If Lou Reed had been around 400 years ago, he'd have been a pal of Caravaggio, so I gave this song his sound.
[soundcloud url="http://api.soundcloud.com/tracks/40813961″ params="auto_play=false&show_artwork=true&color=ff7f00″ width="100%" height="166″ iframe="true" /]
Sick Bacchus: A Name in Blood by Matt Rees
My Caravaggio novel, "A Name in Blood," is released in the UK in summer 2012. A favorite painting: "Sick Bacchus," a self-portrait painted when C looked a bit peeky. The song captures the rawness of his life and the revolutionary style of his art.
[soundcloud url="http://api.soundcloud.com/tracks/40784621″ params="auto_play=false&show_artwork=true&color=ff7f00″ width="100%" height="166″ iframe="true" /]