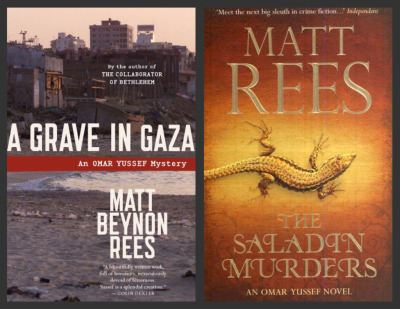 The second in the CWA Dagger-winning Omar Yussef series. Get the US edition, or the UK edition. Download it from audible.com. Get the UK audiobook on CD.
It is a blistering morning in Gaza, as Omar Yussef struggles along the uneven streets to carry out a school inspection. When he learns that a fellow teacher has been jailed for alleged links to the CIA, his suspicions are aroused. The more Omar investigates the arrest, the murkier his search for the truth becomes. With the police, the military and Gaza's most powerful gangs all out to silence him, Omar must face the terrifying realization that he's no longer fighting to save his colleague – but himself.
"A frightening and mighty thriller about an infamous corner of reality which still burns as I write this." – Politiken, Denmark
"A cracking, atmospheric read. Rees depicts a lawless land, riven with internecine feuding, smugglers and corrupt politicians. Perfect, then, for a crime novel." – The Bookseller
"Matt Rees's endearing protagonist, Omar Yussef, is not a detective, but a seeker of truth and justice, both of which seem impossible to find in The Saladin Murders. Omar has left his home in Bethlehem, where he is principal of a UN school, to accompany a Swedish UN official on an inspection of the organisation's schools in Gaza. Within hours of their arrival he discovers how dangerous the place is. One of their teachers has been arrested, after accusing the university of selling degrees to members of the Preventive Security Force, who use them to get promotion. Warring factions, each led by notoriously corrupt and brutal men, commit horrific crimes in their battle for power, and little Omar, overcome at times by rage and desperation, finds himself fighting to save not only the imprisoned teacher but his own life. Rees has created a stunning sense of place and memorable characters for his impassioned story." The Sunday Telegraph
In its vivid portrayal of the violence and degradation of the Palestinian enclave of Gaza, Matt Rees's second book, "The Saladin Murders", is outstanding. — The Economist
Omar Yussef returns. Here is the Hercule Poirot of the Near East immersed in the Gaza Strip. With this second volume in the Omar saga, Matt Rees confirms his mastery of the genre. We await the third with impatience. Insh'allah! — Le Figaro
The Saladin Murders features Omar Yussef, a middle-aged Palestinian teacher and amateur sleuth. He travels into the Gaza Strip, where the roster of murders includes a UN official. Rees not only provides a classic investigation into a terrible crime, he paints a picture of life in this hell-hole, with Palestinian gangs warring with each other while the Israeli presence looms. Rees is not only writing first-rate crime novels but indispensable pages of contemporary history. — The Scotsman
Gripping… Excellent – not least because based on real events. "The killers really killed this way," Matt Rees prefaces his two Omar Yussef novels, "and those who died are dead just the same." — The Independent
"If Simenon gives you canal-side France and Henning Mankell a desolating Sweden, then Rees wants you to experience the West Bank in all its complexity and despair. The story of Omar Yussef, an elderly teacher fighting to maintain his own idea of integrity while solving a brutal murder, restores detective fiction to its most powerful origins: the lone moral hero in the chaos of the world." – Sir David Hare, in The Guardian
"A beautifully written work; full of humanity; miraculously devoid of bitterness; Yussef is a splendid creation." – Colin Dexter, author of the Inspector Morse Mysteries
"Rees combines solid mystery plotting with a literary novelist's emphasis on character and the small human dramas that happen within the broader sociopoltical landscape. And, unlike many crime writers, he writes with great power, style, and emotion." — Bill Ott, Booklist
Matt wrote and performed this song about A Grave in Gaza:
Agent O: A Grave in Gaza by Matt Rees
In A Grave in Gaza, Omar Yussef comes to be known tongue-in-cheek as Agent O. This song reminds me of nights in the desert, with the mystery and danger of Gaza.
[soundcloud url="http://api.soundcloud.com/tracks/40476461″ params="auto_play=false&show_artwork=true&color=ff7f00″ width="100%" height="166″ iframe="true" /]