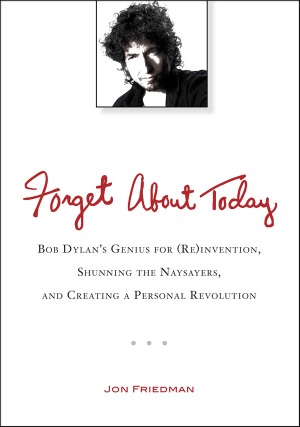 Jon Friedman's first book was what you might expect from a young financial-markets journalist. Published in 1993, "House of Cards" was a fast-paced story of the blunders at American Express during the 1980s, including smear campaigns, duff accounting, and a CEO whose name was synonymous with hubris (until, in recent years, hubris became the official middle name of everyone on Wall Street.) Now as media columnist for The Wall Street Journal's MarketWatch, Friedman's latest book is rather more off-beat than his debut. In Forget About Today: Bob Dylan's Genius for (Re)invention, Shunning the Naysayers, and Creating a Personal Revolution
Friedman makes the case for the unpredictable, shape-shifting musician as a life-coach for all of us, particularly those involved in business. It's a compelling book which comes at its subject from an unconventional angle, thus proving that Friedman has a little Dylan in him. It's fascinating for business mavens and Dylan fans. Here Jon talks about how he came to write the book:
How did you get the idea for the book?
I got the idea for the book from reading the "Oh Mercy" chapter of Dylan's 2004 memoir. Dylan wrote in detail about his strategy for rebuilding his career, which was in tough shape in the 1980s. I recognized then that this was a musician of rare intellect who could solve his problems in a business-like way. Then, I realized that Dylan had a lot to offer people, in a classic "self-help" model.
What sort of influence has Dylan had on the way you live YOUR life?
"To live outside the law you must be honest," as Dylan sang in "Absolutely Sweet Marie." Be honorable in your dealings and true to yourself.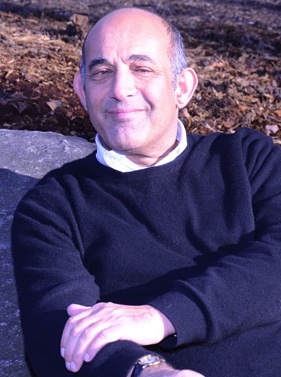 Who ought to read this book?
This book can benefit everyone, from baby-boomers who idolize Dylan for his music and influence to young people who want to learn from a success story who has lasted for FIFTY years and is still going strong.
You're suggesting Dylan can offer lessons for how to live your life, or perhaps how to handle your professional life? But surely he made a lot of mistakes too. How do you account for them?
Dylan is a constant innovator. At times, he has been ahead of his time (such as when he "went electric"). But he also can be stubborn, such as when he initially resisted the advent of MTV. He is human. When he went on stage at Live Aid with Ron Wood and Keith Richards, that was a huge mistake (because they weren't prepared) and he squandered a big opportunity. Nobody is perfect.
About the writing in particular: how did you set about it? Did you structure the book in a detailed way? Did you know exactly what you'd write before you did it?
I came up with the general theme and drew up an outline. Once I determined the chapter titles, the structure came into play. As any book-writer of fiction or nonfiction can attest, having the structure is really, really important. I had no shortage of anecdotes drawn from Dylan's life to underscore my points in each chapter. Actually, I left a few interesting ideas on the cutting room floor in my attempt to go for brevity here.
How did it compare to the writing of "House of Cards"?
My first book was an expose of a once-troubled corporate icon (American Express) in the late 1980s. My book on Dylan is more of a celebration of his success, longevity and comebacks.
Are there other stars whose careers we could use as models for our own and will you be writing another book about one of them?
Ah, the big question! Yes, and I hope so. You could examine the career of any "superstar" in music, art, culture, politics, religion and sports to make these points. I have someone in mind, yes, but it is premature to discuss the subject.