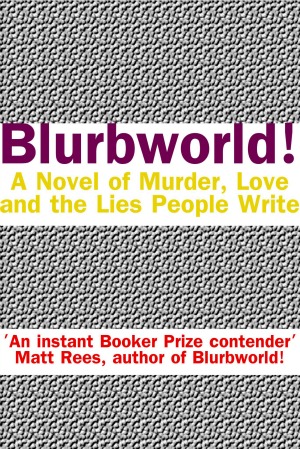 (Earlier this week I gave you chapter 1 of a novel called Blurbworld!, set in a dystopian land where the main character can only think in the overblown cliché of the publicity blurbs authors provide for the jackets of other authors' books. Chapter 2 naturally takes us into Reviewworld! where things get really nasty.)
Raymond Chandler said that drinking was like making love to a woman. The first time is intimate, but by the third time you just undress the girl. Well, here she was on my desk in my office in Newport, a once-shabby industrial town in Wales that's now mysteriously become quite pleasant. She was dark-haired, pale-skinned, wearing fishnets, and she needed my help. I opened the drawer and took out the office bottle. She quoted that bit from Chandler.
"So let's get intimate," I responded. We clinked glasses. The fruit juice was a little sickly, but refreshing.
"Why no whisky?" she asked.
"I'm a writer. Do you think I can afford alcohol? Ebooks are eating the publishing industry alive."
She picked up the bottle. "From concentrate. Poor quality and thin on plot."
"So what is it you really need from me?" (Readers will recall I asked her that at the end of last week's installment. Quite a cliffhanger. Well, now we're over the cliff and up the creek.)
"Let me tell you about my sister," she said. "Luvaine is a wild ride, a literary tour de force, whose spark enlivens every room into which she spins."
"Sounds like a seminal, unmissable female event. Where do we find her?"
"As she might say, the novelist's art consists of being present and absent, that she is most herself by simultaneously being someone else. This seems exactly true to me about Luvaine. She isn't trapped by the narrowness of veracity, by having to conform to a certain version of reality."
I grew less positive. I had heard this kind of shit before. "Oh, Jesus, is she Nicole Krauss…Dot com?"
"But with a difference." The girl smiled. Her smile was like the whisky bottle in my office: not really there, but wished for. The chemistry between us was palpable on the page. It crackled across the screen. (I had the screens fitted because they reminded me of America and noir novels, even though there are no mosquitoes in South Wales. The only thing that ever bit me around here was a lady-boy in Tiger Bay…)
"What's the twist, sugar?" I sneered.
"She's dead."
"That's good for a crime fiction blog. Not so good for Luvaine."
"But it's also reality. An amped up, rollercoaster ride that'll have you reaching for your antacid and your red pencil."
"I guess you want me to find out who killed your sister?"
She reached down and stroked my jaw. "No, baby. I want you to fly with me to New York."