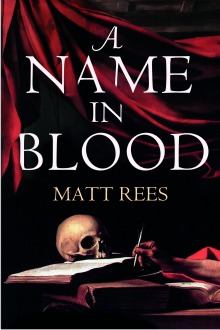 Some great reviews online for my new Caravaggio novel A NAME IN BLOOD. The delightfully named ARRSE blog, which is mainly for members of the British military, rates the novel highly:
A really good novel, based on real characters, real paintings and real events. I would suggest that you look up the actual pictures on Google so that you can follow the descriptions of the paintings given in the text. …The author has brought a compelling tale here based on [Caravaggio's] later life and I thoroughly enjoyed reading it. He was though and certainly still is one of the most influential painters of all time. I recommend that you give 'A Name in Blood, a go if you like medieval thrillers. As the saying goes "I don't know much about art but I know what I like!" – this I like.
I hope that military readers will enjoy the Renaissance rapier-work described in the book, too.
MOZART'S LAST ARIA, which I published last year, continues to gather grassroots accolades. This review mistakenly suggests I've positioned the book as a "sequel to 'Amadeus,'" whereas actually I think it's a better presentation of what might've happened to Mozart at the end than Peter Schaffer's play. However, the reviewer also likes "that Rees provided a section at the back explaining musical terms and providing information about some of the Mozart works he references throughout the book. I'm big into classical music so I was able to follow along, but the appendix could be handy for anyone who isn't."
I was intending to post some of the other reviews of MOZART'S LAST ARIA today, but they appear to be old reviews re-posted as excuses to publicize links to "Hot Moms." So if you want to see "Hot Moms," just do a search for "Mozart's Last Aria" and see what comes up. After all, Mozart's sister Nannerl was a bit of a hot mom, at least in my book….