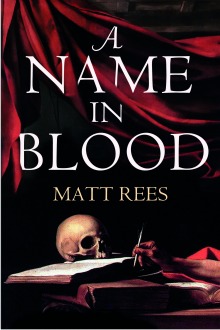 A terrific review of my new novel A NAME IN BLOOD by Ani Johnson of The Bookbag, right there next to their reviews of Umberto Eco, Ruth Rendell, Jodi Picoult and Martin Amis. It's gratifying that The Bookbag notes I've made Caravaggio a more rounded, sympathetic character than his typical portrayal (even by academic art historians).
Throughout the drinking, whoring and dissipation of his fiery temper, Caravaggio remains a sympathetic character just wanting to be happy with the beautiful Lena, but not knowing how. He may be a troubled soul, but the author has combined our understanding and empathy with his apparent misbehaviour. ..We're in no doubt for whom we're cheering, but such is Matt Rees' skill that we cheer gladly.
I was keen throughout the research and writing of the book to put Caravaggio's art at the centre of the mystery about his mysterious disappearance and death. That's something The Bookbag also validates:
Matt Rees also manages to inhabit Caravaggio's mind. Each chapter, named after the painting the artist was concentrating on at that moment, becomes intertwined with the story and shows his thought processes developing with the picture. It's also interesting that the saints and holy figures in Caravaggio's paintings, designed to hang in the homes and churches of the great and the good had been modelled by the whores, drunks and vagrants that the establishment denigrated. This is no high handed art book; this novel shows that the man was his art and vice versa, but not in a way that impedes the story. If you begin to read as a Caravaggio fan, it may offer insight. If you aren't familiar with him or his work, by the end of the book you will be. If you're totally art-averse, this is still a good novel, bringing to life the conflicted life of 16th century Italian just wishing to live and paint without politics and passion getting in the way.