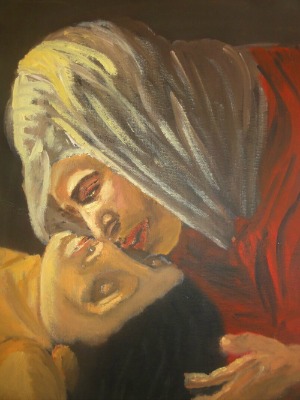 To research A Name in Blood, my novel about the mystery of Caravaggio's death, I traveled to all the places where the great artist lived and worked. I visited galleries around the world to stand before his masterpieces, and I read scores of books about him and the period in which he lived. (I don't expect praise for this; it was no sacrifice, because most of the research was carried out in Italy. It's a bit like saying, "I had to have sex with a lot of beautiful women to write this book." Except that my wife came with me to do the research, so it only involved one beautiful woman.)
But none of this would've been worth a damn if, when it came to write about Caravaggio at work, I hadn't had some idea of how to create a painting out of oils.
Trouble was, when I started my research, that was exactly where things stood. In fact, I was pretty sure I couldn't draw at all.
My brother Dom got the talent with the paint brush in our family, I thought. Inherited from my Dad, who's an architect and a fine caricaturist. Dom studied fine art and teaches art at a school in London. I was certain that old Mrs. Coneybear, my ludicrously named, Joyce Grenfell-like high school art teacher, had been correct when she glanced over my sketches midway through class and said, "I think you'd better model for the other pupils today, Rees."
Still, never write anyone off, Mrs. Coneybear. My sister turns out to be rather a good painter, and my mother just made a clay model that looks exactly like the Picasso on which she modeled it. So evidently the whole family has it in them.
Because while I didn't manage to match Caravaggio (needless to say, that wasn't my goal), I did find intense pleasure in the concentration and delicacy and even the little tricks needed to paint in oils.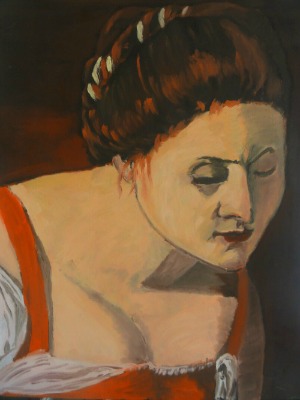 My friend Yael Robin, whose fabulous installations have been shown at the Israel Museum among other fine locations, gave me a few lessons. She emphasized drawing to begin with. I found I wasn't quite awful, but I knew there was no great talent there.
So we soon moved onto the important stuff. Oils. It transpires that oils are, in may ways, easier than pen and ink, because they're more forgiving. Draw the wrong line with a pen and it shall remain wrong. Do it with oils and you can scrape it away or smudge it.
In fact, there's a parallel between oils versus pen and the way I play music. I've never been particularly good at playing exactly what's written on a page of music. I prefer to play in a way that improvises around that musical text. It means I'm not much use at the exactitude of classical music. I don't much go for the endlessly repeated rock guitar riff either. But I love to diddle around with the notes and make something that's always new. So too with oils. They're built up slowly and unless you're trying to make a photographic representation of something there's a good deal of leeway with color and line. There's also time to savor the scent of the linseed oil and turpentine in the room.
That may be why I love Caravaggio's later works so much. He had moved away from the precision of his earlier pieces. His work reflected his life on the run, but also, I think, the way he felt about life and the soul. Essentially he was painting light, and light often comes at us broken down and inexact.
As you'll see from the examples of my work here (and more I intend to post tomorrow), I made some inexact and broken down (though only in the positive sense of the term!) copies of details from Caravaggio's works. I'm quite sure A Name in Blood is better for that. I know that I am.