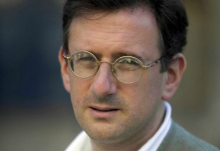 The Middle East is replete with craziness. Probably you're familiar with some of the more extreme regional lunacies — they get a lot of play, to say the least. But if you've heard of one of the lesser known sillinesses, it's probably because of Matthew Kalman.
The editor of The Jerusalem Report has been the sole journalist consistently following the lengthy saga of the ossuary (a box for bones) which may or may not have contained the remains of Jesus's brother. The story started a decade ago when I was Time magazine's Jerusalem bureau chief and I got Matthew involved in our report on the ossuary, which I had been invited to view in a Tel Aviv apartment. Later the Israel Antiquities Authority decided the owner of the ossuary had faked it, intending to sell it. The result: a trial of such length, arduousness, and silliness that only Matthew bothered to cover it.
Nothing gets as nasty as a dispute in which the stakes seem extremely low. The ossuary trial stirred up the archeological world. It turns out archeologists are bitchier than teenage girls or Republican congressmen. I'd never have known when I first assigned Matthew to the story that he'd become so involved. His reporting showed that this apparently arcane story contained a great deal of significance, after all.
Lately, I've seen the same kind of commitment to off-beat and revealing stories in The Jerusalem Report since Matthew took over the reins there a couple of months ago. The magazine is a terrific read these days, thanks to Matthew and his staff who have a nose for a good story and a keen new graphic sense.
Take a look at Matthew's ossuary stories, and read The Jerusalem Report too.