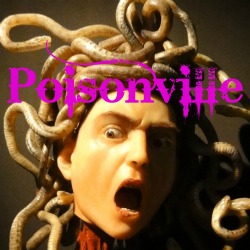 Art ought to inspire us at least to try to work in all the media to which we have access. I'm a writer. But I love to make music, which is partially why I wrote about the mystery of the great composer's death in Mozart's Last Aria. Writing that novel took me deeper inside some great music and helped me develop my own playing. The same is true of painting. For my new novel, A NAME IN BLOOD, I learned to work with oils. But I also wanted to incorporate these different interests. The result was my Poisonville project: original music about crime fiction. Two of the songs I've recorded are about A Name in Blood.
"A Name in Blood," is released in the UK July 5. It's about the mystery of Caravaggio's disappearance. In July 1610, he was on the run with a price on his head and he simply disappeared. Art historians have accepted a fairly tall tale about how this happened. My novel is my answer.
Caravaggio was a rebellious, sensitive man who changed art. In writing music for the book, I thought of a kind of parallel. If Lou Reed had been around 400 years ago, he'd have been a pal of Caravaggio, so I gave this song his sound.
A favorite painting "Sick Bacchus" is a self-portrait painted when Caravaggio was young and looking a bit peeky. This song captures the rawness of his life and the revolutionary style of his art. I gave it an industrial rock sound, because he was living a "downtown" sort of life at that time.
Listen to more of my Poisonville songs. Buy the songs on CDBaby or amazon.