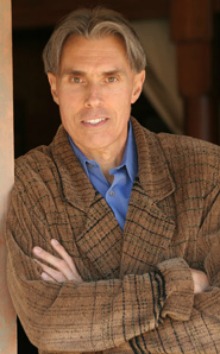 In a Jerusalem café, I was drinking an espresso with Stephen Victor, an Oregon-based practitioner of a process called "family constellations." I mentioned to him that I thought the process might be useful in my research for A Name in Blood, my historical novel about Caravaggio. Stephen agreed. Though the most common use of constellations is to resolve a family trauma that may even have occurred generations ago and been passed down to those living today, Stephen suggested that if I wanted to connect with Caravaggio about his life I should "just ask him––he's out there."
It was only a flash, but in that instant Caravaggio was sitting at Stephen's right, opposite me. He wasn't precisely "in a chair" next to Stephen. He was higher up, as if inset in a thought bubble. He was in the Jerusalem café, but he also appeared at the same time to be in a tavern in Rome four hundred years ago. He looked sad and yet comfortable in our presence.
Stephen knew Caravaggio was there too. He shivered violently and then shook it off with a twitch of his neck.
Subsequently I used constellations –– or more precisely I "just asked" Caravaggio and others in his life –– to feel my way deeper into the characterizations of A Name in Blood. Most particularly I found a response from Lena, the young woman who I believe was Caravaggio's lover and who plays a central role in A Name in Blood.
As Stephen often says, this process is intellectually indefensible. So I don't try to defend it. It happens to be what I've experienced, and when I've spoken to other creative artists, to actors and musicians, the most open ones often tell me they've had similar experiences or used similar techniques. Several German actors spent a night swapping constellations tales with me a year or so ago. My reading of some elliptical statements by Booker-award-winner Hilary Mantel suggests to me she may employ some similar process to achieve her astonishingly vivid characterizations.
The essence of the technique is to centre oneself in a meditative fashion. To focus one's energy in one's stomach, rather than in the head. The head is where we judge ourselves negatively––where we tell ourselves that this is all intellectually indefensible and we shouldn't bother with it. In family constellations, when I've been open enough, I've felt the energy of someone else's grandfather or someone's fear or disease and allowed it to emerge as part of a healing process for that person. It's the most remarkably cleansing feeling I've ever experienced.
Naturally I've heard from some people that this is nonsense. After I mentioned constellations while on a panel at a book fair, one of the other panelists, a very well-known British crime writer, joked: "I'm not channeling anyone. I'm doing all the typing." A lady in the audience stood up to tell him that she thought his characterizations were very good and, therefore, she suspected he was employing something like the constellations technique without even knowing it.
Of course I'm doing the typing. I'm not channeling anyone or anything. Caravaggio didn't write A Name in Blood, I did. If I was channeling him, I'd be painting, not writing, believe me.
But if you, like my British crime writer pal, think your head holds all the answers to everything, why does it choose to make life so miserable much of the time. Why does it fear an answer that might originate in some other part of the body?
In the West, there's a tyranny of the brain, of the intellectually defensible. It's like any of the other tyrannies we've embraced –– patriarchy, capitalism, monotheism. It demonizes any other way of thinking and often does so through mockery. If those systems don't always work, they can be nipped and tucked, but don't you even think of looking elsewhere for a better system. That's the message at the heart of our culture of intellectual defensibility.
Personally I want my novel to be as good as it can be (and for me to be as happy as I can be). I don't care what apparently silly things I have to do, what processes I must engage in, to get it that way. I know that A Name in Blood has been touched by Caravaggio, even if some might think that sounds daft.
Besides, the Caravaggio I met wasn't at all the way you'd think from the writings of art historians. Their Caravaggio, as I've written elsewhere on this blog, was some kind of gay psycho bitch. But mine was different. I liked him. I hope you will too.