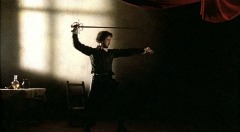 He was a raging psycho, an uncontrollably lustful homosexual, and a bit of a bitch. Somehow he also managed to produce some of the most sensitive and innovative art ever painted, much of it clearly based on a sophisticated understanding of theology and optical science.
For many art historians and almost all creative artists writing about or otherwise depicting Caravaggio, the gay psycho bitch has predominated. But I wasn't drawn to Caravaggio because he threw a plate of hot artichokes in an insolent waiter's face (although I found it somehow appealing, nonetheless) or because he did a good line in paintings of little boy's bottoms.
My Caravaggio novel A Name in Blood focuses on the most compelling aspects of his life and work. I was, after all, attracted to him in the first place because of his work, not because of the anti-establishment cult that was built around him in the 'Sixties and 'Seventies and which culminated in Derek Jarman's tedious movie, where Caravaggio endlessly feeds gold coins into the mouth of a naked, sweaty Sean Bean. (After I made her watch the film, my wife told me: "Wow, I must really love you to sit through this shit." She's from New York; she can be bitchier than Cult Caravaggio. And yet I still give her my first drafts to read.)
It isn't the first time I've found a historical novel of mine engaging in an unintended battle against long-held prejudices. In Mozart's Last Aria, I wrote about the mysterious death of the great composer. In doing so, I discovered a Mozart who was a socially engaged intellectual and far more complex than the common perception of him –– which was finally cemented in the popular imagination by the giggling buffoon at the centre of Amadeus thirty years ago.
So too with Caravaggio. Take a look at the Caravaggio episode in Simon Schama's The Power of Art series for the BBC. Caravaggio is shown practicing with his rapier and, later, stabbing a man to death with the aggressive drug-addled sneer of the front man of a punk ensemble. Schama wanders about Rome with no answer as to how Caravaggio found the time, talent, or spiritual intensity to paint the most vivid Madonnas in the history of art.
I won't recount every example here of how Caravaggio deviates from the cartoon image of him. But here's an example of the role his intellect must have played in his work. For one thing, I'm convinced by the research that shows he used a camera obscura. Not as a gimmick, but because he was a resident in the palace of Cardinal del Monte and dined with many of the great scientists of the day, conversing with them on a sophisticated level. He was able to put into practice much of the theory he heard at that table.
It's true that Caravaggio did kill a man in a duel. He was often hauled up before the courts in Rome for brawling. He appears to have had sex with young men and female whores. Without wanting to be too relativistic, none of this was entirely without precedent among his peers, most of whom regarded his conduct with equanimity (unless they were jealous rivals.)
Most creative artists I've met (and this is true of myself) do not choose their field because they're breezy, well-balanced types. Caravaggio was given to the tempestuous behavior of a man with a tendency to rage and, I think, depression. Probably this was a result of early traumas. We can't know that for sure, because we don't have his therapist's notes…Or do we? A painter's canvasses are pretty close.
What we do know is that a man who made such fabulous and inspiring art deserves to be considered as more than just a hoodlum. We should approach him with our own finest parts attuned to the real Caravaggio who has so often been hidden under the stereotypical bad boy genius.