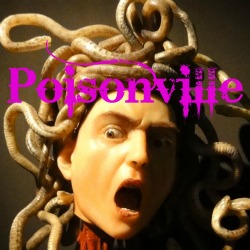 The only thing as evocative as a good noir crime novel is music. So, I thought, how about making an album of music about crime fiction? That's what I've done and I'm unveiling it here.
The project's called Poisonville, after the mispronounced location of Dashiell Hammett's first novel "Red Harvest." (The place was really called Personville, but Hammett's Op learns that people call it Poisonville for a reason.)
You can listen to the songs free on my website. I hope you'll share them. I've found it inspiring to work on these songs. You'll see the styles vary from industrial to rock to funk to the sound of hoboes in a speakeasy, as well as my impersonations of Leonard Cohen and Lou Reed.
Here's the idea behind Poisonville: I've been in bands for many years, playing various instruments. But I have a newish baby and I don't want to stay out late performing, because I need all the sleep I can get! So I created a studio – I call it Big Pink Oboe Studio. Not because I play the oboe. The pink oboe is an old Spike Milligan euphemism for an excitable part of the male anatomy. I also revived my old stage persona: when I was in an alternative band in New York in the 1990s, I was Napoleon Blownapart. (The band was Money Shot, which those of you with any knowledge of porno parlance will understand and also gives you an idea of the sort of gig we used to do.) The name gets me into the right head for music.
And so into the studio I went, writing songs about my own books and songs about books I love (by Hammett and Chandler). I perform most of the instruments, with a little help from The Talented David Brinn (which is the stage name of my pal David Brinn, in case you're wondering) and The Lovely Jasmine Schwartz (which is the name in her passport, you should know.)
I've also written songs with a couple of crime authors: Jasmine Schwartz, whose fabulous Neurotic Detective series will be out in a few months, and Helen Fitzgerald, the Australian writer of the sexiest crime novels around. You can hear these writers reading a line or two from their books during the course of the songs.
Jasmine and Helen both wrote lyrics about their books, which I set to music. I'm intending to do the same thing with some other favorite writers of mine in the coming months. If you think there are crime writers I ought to get on board (because they've written books that'd work well in a musical setting), let me know.
You've probably stolen music on the web, even if the music wasn't about crime. Poisonville's crime fiction music is your chance to listen free – without being a criminal.